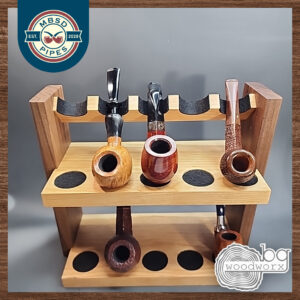 MBSD Pipes to Stock BGwoodworx Racks and Accessories
MBSD Pipes Announces Partnership with BGwoodworx as Primary Supplier of Hand Crafted Pipe Racks, Trays, and Accessories
[Rockmart, Georgia] – MBSD Pipes is thrilled to announce the addition of BGwoodworx as our exclusive supplier of hand crafted pipe racks, trays, and accessories. This strategic partnership aims to offer our valued customers a wide range of high-quality products designed with meticulous craftsmanship.
BG Woodworx, owned and operated by Bradley Gantt, is based in Sugarhill, Georgia. With a passion for woodworking and an exceptional eye for detail, Bradley utilizes a variety of exotic woods in his creations, with a special emphasis on walnut and cherry. Having served his country with pride, Bradley brings a unique dedication and commitment to his craft.
Commencing on June 3rd, MBSD Pipes will begin stocking the highly sought-after 10 Slot Pipe Racks. These racks are skillfully designed to provide optimal comfort and functionality for modern pipes, boasting a sleek two-tone modern aesthetic. With a focus on both style and practicality, these pipe racks are set to become a must-have accessory for pipe enthusiasts.
In addition to the pipe racks, we are excited to introduce the inclusion of BGwoodworx's popular pipe tobacco packing trays in our inventory. These trays have consistently been among BGwoodworx's best-selling products, and we are delighted to make them readily available to our discerning customers.
MBSD Pipes is dedicated to providing the finest smoking accessories on the market, and our collaboration with BG Woodworx represents a significant step in that direction. We are confident that this partnership will enhance the overall customer experience and offer a diverse selection of handcrafted products that align with our commitment to quality.
About MBSD Pipes
MBSD Pipes is a leading provider of premium smoking accessories, committed to delivering exceptional products and unparalleled customer service. With a focus on quality craftsmanship, we strive to cater to the discerning tastes of pipe enthusiasts worldwide.
About BGWoodworx:
BGwoodworx, founded by Bradley Gantt, is renowned for its exquisite hand crafted pipe racks, trays, and accessories. Each piece is meticulously crafted using a variety of exotic woods, showcasing Bradley's passion for woodworking and attention to detail. Based in Sugarhill, Georgia, BGwoodworx offers unique and stylish products that elevate the smoking experience.